The Saga of the Quan Loi Queen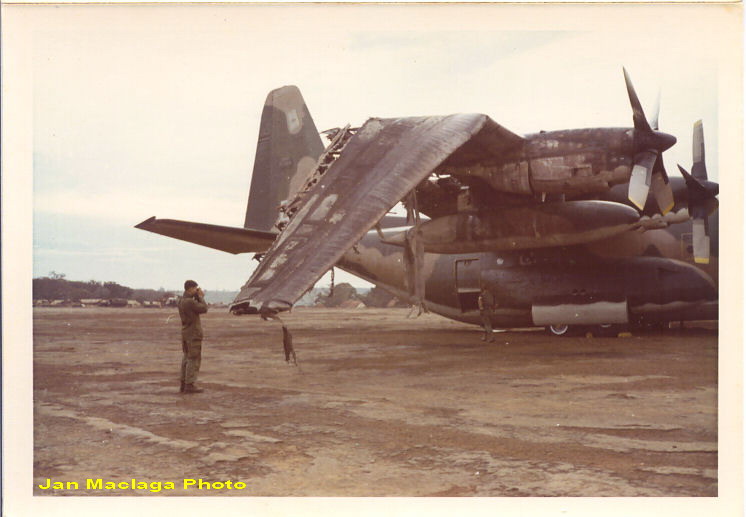 C-130E (62-1854 USAF) Quan Loi Airstrip November 1969 after being hit by 122MM Rocket

The Quan Loi Queen
During my tour in Vietnam 1969-1970, I was an Air Force C-130 pilot stationed in Cam Rhan Bay and later in Saigon. During that time, those bases were far from the action and so I never really saw any except for 17 November 1969. I was the pilot of the "Quan Loi Queen"; the C-130 that day that took a 122MM round just aft of the right wing. In addition to starting a huge fire in the wing, the rocket punched 266 holes in the aircraft. That day, I lost my loadmaster, Norm Thomas, all of 21 years old.
There was a "dead head i.e. passenger" loadmaster on board from another C-130 by the name of Bob Gable. After we had evacuated from our burning aircraft, we took inventory of our crew and noted Norm was missing. We then noticed Bob in the side cargo door struggling to get Norm out of the aircraft. We ran towards the aircraft to assist and arrived just as Bob lowered Norm to the ground. He hurt his back in the process and received a Silver Star for his heroic actions.

I remember dragging Norm away from our burning aircraft and someone handing me a can of Budweiser. It was late in the day and so the remainder of the crew spent the night in Quan Loi. It was the only night I spent in the "war" and I was thankful it was only one night. I thought what a mind changing experience it must have been for the folks stationed there. Many of us "flyboys" were unaccustomed to the real war you guys were fighting and that one night at Quan Loi was quite an experience for us. I will always remember the kindness you folks showed us and how important that was to getting us back in the saddle. We flew our next mission the day after we returned to base with a replacement loadmaster.

I live about an hour from the Vietnam War Memorial and at every opportunity, I visit and look at Norm's name on the wall and wonder if timing had been a few seconds different on that day in November if Norm would still be with us or conversely, would anyone on the crew still be here.

I remember just prior to our departure from Cam Rahn for our flight to Quan Loi, after Norm loaded our aircraft with 30K pounds of TNT (it had already been off loaded when we were hit), he mentioned he and the much more senior flight engineer had gotten in a squabble and they weren't talking.

I saw a picture of the "Queen" posted on your web site. First I saw her since almost 40 years ago but she looks exactly as I remember.

Lou Hari Then and Now
May 69 to Sep 70
CPT - USAF 46th Tactical Airlift Squadron (TAS)
"Quan Loi Queen" Pilot

---
Other Photos and "The Rest of the Story" By John Wavra
If you were at Quan Loi, RVN on November 17-18, 1969 and were in in the possession of a camera, you most likely took photos of the injured "Quan Loi Queen" on the airstrip. Here are a few of them I have been sent and some of my own. Note Jan Maclaga's photo above is almost identical to one I took, but from just a very slightly different location. Jan, we must have been there at the same time taking photos!


C-130E (62-1854 USAF - alias "Quan Loi Queen) was one of 486 planes the U. S. Air Force ordered from Lockheed with deliveries beginning in April 1962 through March 1974 (http://en.wikipedia.org/wiki/Lockheed_C-130_Hercules). We who served at Quan Loi are thankful for the service of the pilots and crews of these workhorse aircraft for all the supplies they brought to Quan Loi. Without their service Quan Loi would have been an even more less desirable place to be.
---
The Quan Loi Queen - Memories From Fred Masters
I was a Combat Engineer, C Company, 168th Engineering Battalion. Came in Country April 1969, and left April 1970. I started out in Lai Khe (for a few months), moved up to Quan Loi (most of my tour), day trips to Loc Ninh (bad place to stay overnight), and finally, my last month, Phu Loi. Most of that time I was an E-5 driving a bucket-loader, working the clay pits with the big Twin 90 earth movers, building red clay roads and drainage. Oh yeah, since I was an E-5 (or lower), guard duty every third night my entire tour (except my last month in Phu Loi). It's amazing the lack of sleep didn't kill us - good thing we were young!

I remember the C130 (The Quan Loi Queen), but let me add a few more details.

She was full of holes on one side, but I don't remember the wing being that damaged (initially). She received more damage sitting right there a few nights later, in a rocket/mortar attack. I know - I was on "interior" guard duty that night sitting right next to it!

Three of us had a 1/4ton backed up to the plane with a sandbagged M60, and we were supposed to walk around the plane every 1/2 hour - thinking was they'd try and get through the wire and blow it up. Talk about a big target - that thing was huge. Instead, incoming!!

We bailed out of the truck, I ended up inside one of the many "L" shaped revetments lining the sides of the runway (for the choppers). When it was over, our truck was gone, one of the large black rubber fuel bladders (for the choppers) was gone, and the C130 had more damage. Luckily, none of us seriously was hurt, and if it wasn't for those sandbags, I probably would not be writing you this!
Another thing they did right after the attack was put a large "gage" in the mortar holes to try and re-target where they came from, but they were probably long gone by then. I had never seen that done before.

The basic problem was that the C130 was right at the end of the runway - too close to the perimeter, a real easy target. They actually "walked" the mortars in that night, which is why we had the time to get out of there. It was moved further into the interior of Quan Loi right after that.

I can't believe they got that thing flying again - I was moved to Phu Loi by then.

Fred Masters Now and Then
Combat Engineer, C Company, 168th Engineering Battalion
April 1969 to April 1970
---
The Repairs

The "Quan Loi Queen" sat in an area off the airstrip until January 1970 when an Air Force crew was sent in to repair the damaged wing and the many holes in her left by the 122MM rocket. R.C. Johnson, in a post to the now off-line website, www.spectrumwd.com, wrote "62-1854 on the ground at Quan Loi in Jan 1970 being repaired after a shelling that got it the title of the most battle damaged airplane to fly again and called Quan Loi Queen. . ."

(Click Image to Enlarge)



Thanks to Herkey Birds.com Forum for photos included above.
---


The End of the Line
With repairs completed the Air Force returned the "Quan Loi Queen", to active service. It seems this Herkey Bird was never quite the same, however. In a post in September 2001 on http://lists.topica.com/lists/Herkybirds/read/message.html?sort=a&mid=901609511, Sam McGowan wrote: " Quan Loi Queen was 62-1854. The last time I saw it, was kind of sorry looking. May 1972 burned on ramp at Kontum RVSN. They must of sent it through IRAN because when I left CCK in August of 71 a museum would have been the best place for it. It had many problems that just never seemed to get fixed. It had a trim problem because the tail was not on correctly plus all four engines would quit in unison every once and awhile for a few seconds. I always hoped they would not do their act on T/O never did though. Also could not pressurize the aircraft fully. At the time it was also restricted from flying any pax. It was a sad looking sight the last time I saw it."
Finally, on May 23, 1972 the "QL Queen" was hit by a rocket while parked on the runway at Kontum, RVN, and received life ending damages. After this second unfortunate rocket hit the Air Force scraped "the Quan Loi Queen" and that was the end of her. Her remaining parts were left in Vietnam.
(All content and photos on this site are the property of their named owners and may not be copied or used for any other purposes without permission. Please contact webmaster for permission)